Single Compression Cable Glands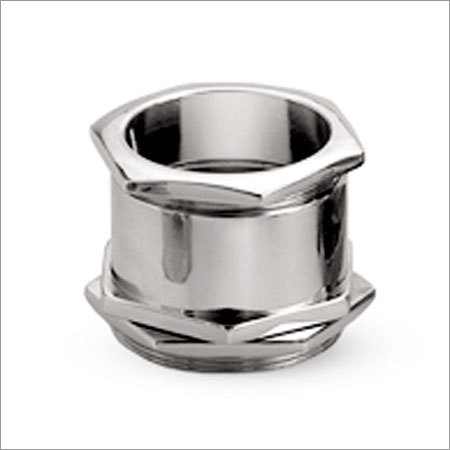 Single Compression Cable Glands
Product Description
Single Compression Type Heavy Duty Cable Glands
As an ISO certified manufacturer and trader, we are engaged in offering premium quality Single Compression Heavy Duty Cable Gland. This IS 319 grade brass made Single Compression Heavy Duty Cable Gland is also available with aluminum, mild steel and stainless steel made structure. The nickle plated surface finishing of this cable gland is effective in preventing damaging effects of rust. We also use chrome, tin or cadmium as its surface coating material. Developed as per IS 12943 of 1960 standard, this heavy duty cable gland is suitable for indoor application purpose. It consists of natural rubber made sealing part, brass made check nut, washer, compression ring and gland body.
Application : For use under most climatic conditions.This are Weatherproof and may be used in the corrosive conditions when protected by the shroud.
Specification : Gland consist of checknut 1, gland body 2, metal washers (3 Nos) 3, outer seal rubber ring 4, compression nut 5. All metal parts are made of brass accurately machined for ease of assembly.
Extras : Shrouds and Earth tags are supplied separately and should be specified when ordering the gland.
Technical Specification :

| | |
| --- | --- |
| Material | Brass(IS 319) -Standard. (In AL/Mild Steel/SS. also available) |
| Finish | Nickel plated-Standards. (Tin/Cadmium/Chrome also available) |
| Threads | Metric-Standards (ET/BSC/PG/NPT/BSP also available) |
| Sealing Ring | Natural Rubber |
| Ref. Standard | IS 12943 of 1960 |
| Protection Class | IP 60 |
| Type test no. | |
| Application | Generally for Indoor use for armoured & Cable |
| Series Code | SCG(SIBG) |
| | | |
| --- | --- | --- |
| Name of Part | Material | Qty. |
| CHECK NUT | BRASS | 1 |
| GLAND BODY | BRASS | 1 |
| WASHER | BRASS/MS | 3 |
| OUTER SEALRING | NATURAL RUBBER | 1 |
| GROOVED | | |
| COMPRESSION RING | BRASS | 1 |
Suitable For Cable Overall Dia

SIZE

D1 Nipple Size In Metrics

D2

D3

D4

D5

L1

9.0

12.0

SCG1

16X 1.5

12.0

16.0

22.0

25.5

9.0

12.0

15.5

SCG2

16X 1.5

12.0

18.5

25.0

29.0

9.0

12.0

15.5

SCG3

20X 1.5

15.0

18.5

25.0

29.0

9.0

18.0

21.0

SCG4

20X 1.5

15.0

24.0

30.0

34.5

9.5

18.0

21.0

SCG5

25X 1.5

20.5

24.0

31.5

36.0

9.5

21.0

25.0

SCG6

25X 1.5

20.5

28.5

35.0

40.0

10.0

25.0

29.0

SCG7

32X 1.5

27.0

33.0

40.0

46.0

12.0

29.0

33.0

SCG8

40X 1.5

34.0

37.0

46.0

53.0

12.0

33.0

38.0

SCG9

40X 1.5

34.0

41.0

50.0

57.5

12.0

38.0

43.0

SCG10

50X 1.5

44.0

47.0

58.0

67.0

13.0

43.0

50.0

SCG11

50X 1.5

44.0

52.0

65.0

75.0

13.0

48.0

54.0

SCG12

63X 1.5

55.0

61.5

73.0

84.0

14.0

55.0

60.0

SCG13

63X 1.5

55.0

65.0

77.0

89.0

14.0

61.0

66.0

SCG14

75X 1.5

68.0

71.0

85.0

98.0

15.0

67.0

72.0

SCG15

75X 1.5

67.0

76.0

90.0

104.0

15.0

73.0

79.0

SCG16

82X 1.5

73.0

82.0

97.0

112.0

17.0

79.0

84.0

SCG17

90X.1.5

81.0

91.0

108.0

124.0

19.0

84.5

92.0

SCG18

100X 1.5

91.0

98.0

117.0

135.0

20.0
Trade Information
Yes

Free samples are available